In February, 25 refugee youth gathered in Washington, DC to identify and discuss the biggest barriers they face adjusting to life in America.
Language
Discrimination and Bullying
Education
Cultural Adjustment
The following infographic provides a snapshot of the demographics of these 25 youth and their experiences before and after resettlement. During the next week, we will be expanding on each of these barriers. The refugee youth analyzed the causes and impacts of each barrier and then discussed what could be done to fix them. Solutions ranged from what can be done better overseas in refugee camps to what can be done here by schools and local communities. These barriers, causes, impacts, and solutions all came from the refugee youth themselves. Please take a moment to better understand the challenges young refugees face and what you can do to help.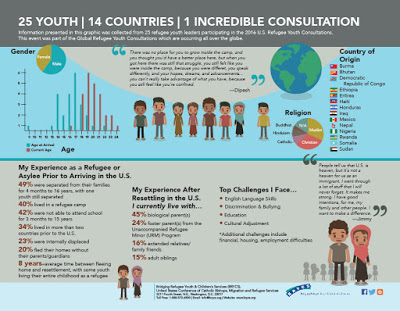 Click here to download a PDF of this infographic.